OK, you know me, I have to join in with the cool kids and latest crazes, follow the crowd, hate to miss out and all that jazz; well I did it
again
.
Everyone who is anyone seems to have been making
triple zipper pouches
over the past few weeks, and so I had to have a go too didn't I?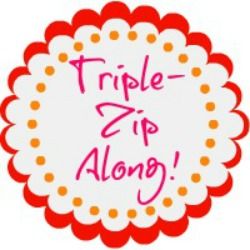 Well it is my sister's birthday in a few weeks, so this seemed like the perfect excuse.
I pulled some fabric on Friday night, Dear Stella Campgrounds and some Kaffe paperweights, and made a mental note to refer back to
Marci's blogpost
to use her version for the final stage, then
Krista
posted about hers. Her
directional print
comments and the observation about
3 compartments but no more space than a single zipper
got my cogs whirring at lightening speed! (Steady!)
I was going to have to make my outer panel from two pieces of fabric anyway because of my directional print, so why not do the same with the main lining? This would cut out the seemingly complicated turning stage,
and
therefore be able to add the missing final zip's top-stitching,
and
whilst at it, make it a bit bigger and box the corners to make the whole thing a little more roomy? Why not indeed!
So I made it. I wish I had taken progress pictures now it has actually worked, but it was all done on a wing and a prayer.
If you are planning on making one of these, you might want to consider adding an extra 1/2" seam allowance to your main panel and lining pieces, (for cutting and rejoining), and constructing the final pouch body as you would any single zip purse. The instructions for getting to the final stage are great, I like, OK
need
, the nice clear 'outer fabric face up, zip face down etc' to see me through that part, especially with 3 zips!
I also added an extra 2", (+2.5" in total from the original), for boxing the corners, and as with all purses I make, I left my turning gap in the side, not bottom seam, and hand-stitch that closed.
My zipper tabs usually have a life of their own, sometimes perfect, other times completely caught inside, but these top ones worked pretty damn well. If I make another one, or any zipper purse actually, I will make the tabs this way but maybe leave the excess a little longer, (1" instead of 3/4"), for more
pushing out
power, and I have never
not sewn
over the zip ends before and I was pleasantly surprised!
So there you go, my little venture into pattern alteration.
Three cheers for
Deb
for being so wonderful about all the tips and suggestions that makers have offered up about her pattern; I have found it really interesting to see how everyone has a different take on the same pattern. And there are some beauties in the
flickr pool
, go take a look, just in case you haven't already decided you need to make one. xxx